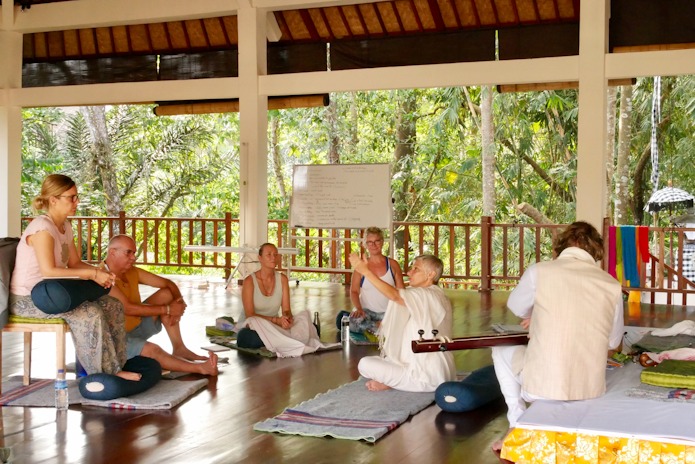 Yoga of the Voice is a vocal yoga, posture less, to open up to the power of vibrations and mantras...
This authentic practice is based on Indian classical music's vocal techniques, a true science of vibrations, and Sanskrit mantras chanting (syllables or series of syllables to be repeated, sacred formulas possessing energetic potency). It is connected to the various limbs of authentic yoga, in its real sense of union with the Absolute, a majestic tree, among whose branches is also hatha yoga.
Direct approach to Indian sacred music


The "Yoga of the voice" school emphasizes the direct approach to Indian sacred music, which is an integral part of the science of vibration, along with vocal practice.
With the self-instrument of the voice, we approach the unforeseen depths of music and its subtle effects within us. Yoga of the Voice has similar benefits as those of postural yoga : physiological balance, relaxation, soothing and clarifying the mind, inner focus and gentle concentration, awakening of the breath and of the inherent joy of being... As we move through the Indian scales, we can observe our inner processes, appreciate the resonances, and enhance our listening ability, thus improving our relationship to the world and to ourselves.
Just give it a try ! You will experience a revitalizing and harmonizing sound massage, discover the possibility of spontaneous and effortless meditation, and feel better, more connected, more grounded within yourself. 
Your teacher: Adam S. Callejon
Singer-songwriter... guitarist, bassist and singer since forever, Adam discovered and studied Dhrupad (classical North Indian singing) in 2000 with Yvan Trunzler (Dagar Vani). He plays various indian instruments, like Esraj and Gîtar. Pandit Barun Pal, an outstanding musician and senior disciple of Pandit Ravi Shankar, now guides his practice of Indian music.
Exploring some forgotten paths, Adam's musical and philosophical research highlights the unifying qualities of Indian music and its connection to our inner self, based on the science of vibration. He expresses the universal beauty of this ancient and refined music in his original compositions, and shares it during intimate concerts or in the form of Yoga of the Voice workshops and retreats.
"Rather than being music virtuoso, let us become virtuosos of Silence"..." Adam S. Callejon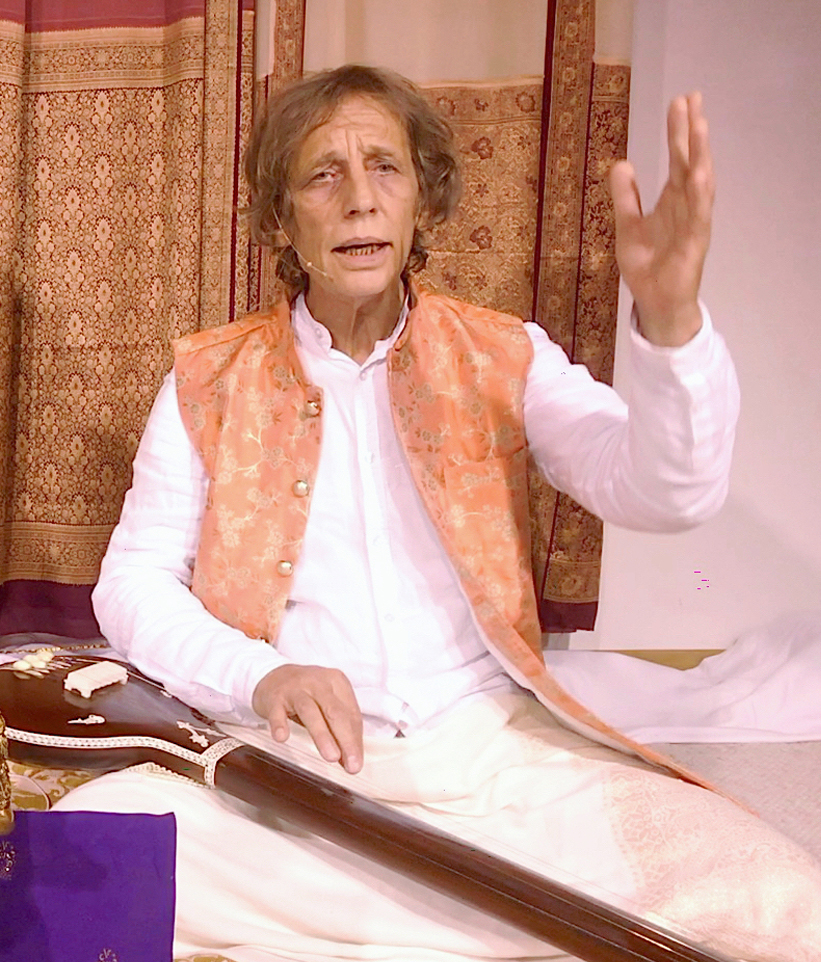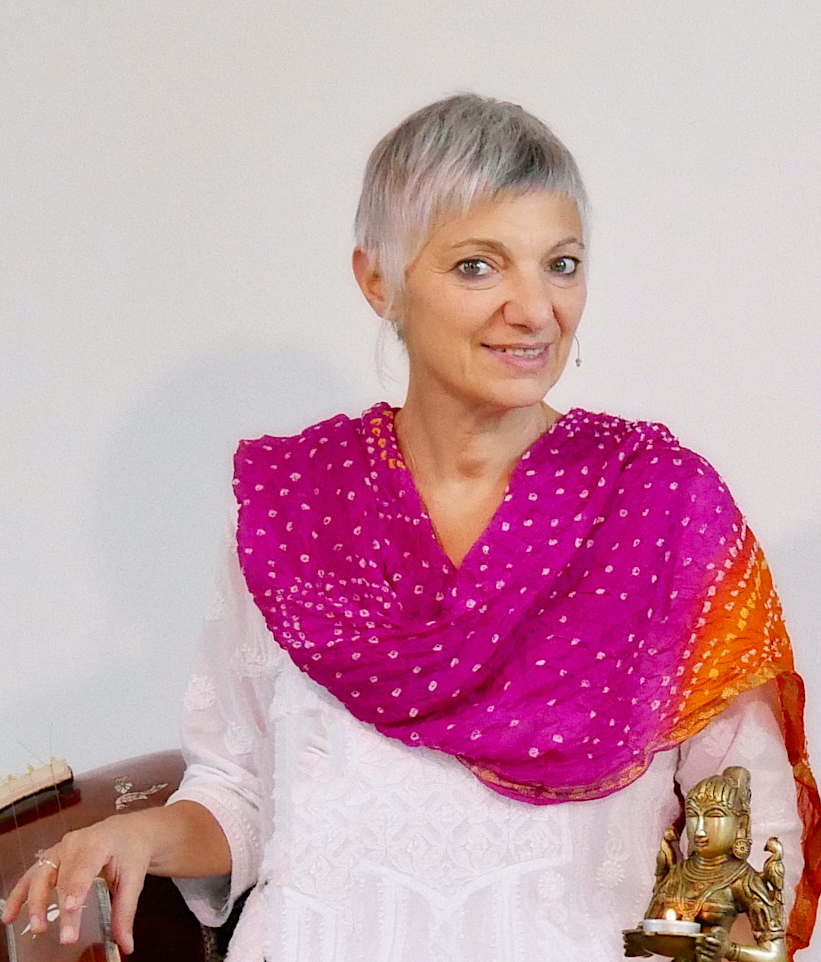 Your teacher: Nathalie Nichanian
Nathalie, a Yoga teacher, created "Sesame Yoga" in 1999 to share her commitment to Hatha Yoga and Ayurveda.
She also studied Dhrupad singing with Yvan Trunzler from 2000 to 2005. She has been singing and transmitting meditative chanting for the past sixteen years, in workshops and concerts of "Yoga of the Voice, Sacred Songs of India".
"From Sound to Silence, a path to oneself: the Yoga of the Voice connects us to the Essence through the melodic and contemplative chanting of mantras in Sanskrit. It is a true path of Yoga, which elevates the vibratory frequency and unveils our eternal self." Nathalie Nichanian
Together they have created this unique content of 4 video classes specially for our platform.
By following their teachings from video 1 to video 4, you will explore a simple Indian scale, Raga Asavari, learn to sing its notes and paths, discover 3 songs of various styles on ancient mantras in Sanskrit, and experience Indian rhythmic cycles!
* All melodies composed by Adam in the classical style of Indian Raga music ...
What you need to know to get started:
- The mode (specific scale) is the melodic framework of a raga and defines the frequencies (notes) that are used in it. 
- The Sa is the starting frequency, the fundamental or dominant note, the other note frequencies are divisions established on a scale of 12 notes starting from the Sa (fundamental note) to the upper Sa octave.The tanpura (drone) indicates the dominant (the Sa). 
- In Indian classical music, there is no mixing of modes. The raga played comes to life in the prelude and unfolds in infinite variations within the framework of the frequencies And rules that define it.


On Indian music notation:
Notes are written with upper and lower case letters. Uppercase letters refer to the so-called "natural" (Shud) notes ; Lower case letters refer to "diminished" notes, (Komal) below their natural value (Only one note is increased, above its natural value, it is the Ma tivra which is written Ma+ ).
In the 4 videos, we will practice Asavari in its classical form with the natural Re (shud) and in a variation of it with the diminished re (Komal).
A raga is not limited to its aesthetic beauty. It contains many secrets.
Available
Courses at Nalanda School


Continue your studies at Nalanda School for Higher Knowledge and Yogic Arts